The under 13.5 boys from Omagh defeated Abbey Vocational School, Donegal Town, in a pulsating semi-final last Friday 7th April in Castlederg.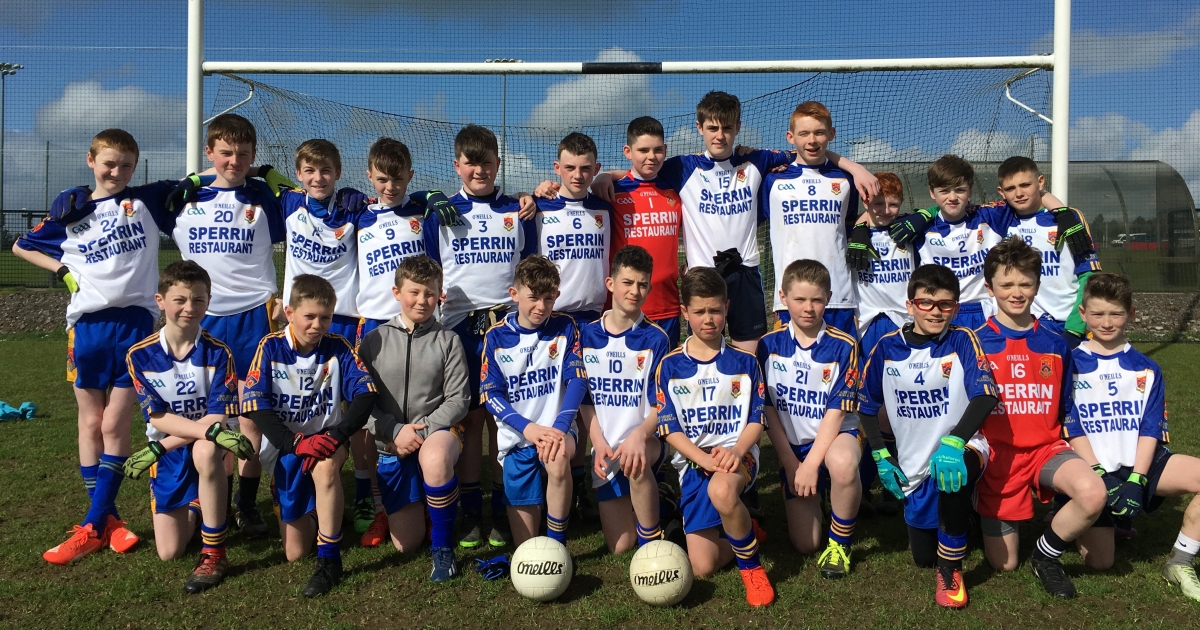 Sacred Heart showed their intent right from the off, as they came flying out of the blocks and raced into a 0-3 to 0-0 lead, through points by Pearse Goan, Matthew Hayes, and Cathair Conway. However, the Donegal side also showed their potency up front by breaking through for a goal with their first attack.
The Omagh boys remained undeterred though as they went on to score the next 5 points without reply, courtesy of a fine score by Finnan Patterson, and Tadg Cunningham coming to the fore by helping himself to a haul of 4 points in a row. As half time was approaching Sacred Heart's domination was agonisingly wiped out as, totally against the run of play, Abbey V.S scored 3 majors in a row to totally turn the tie on its head. Pearce Goan though gave Sacred Heart a badly needed boost when he powered through for a fine score on the stroke of half time. Half-Time Sacred Heart Omagh 0-9 v Abbey Vocational Donegal 4-0
Faced with having to play 'up the hill' and against the wind in the second period, Sacred Heart knew that they would now have to dig, deeper than ever before, if they were to take their College to the coveted Ulster final. The Donegal boys, though, were not going to just step aside. In fact, they quickly made the wind advantage count, as they pointed the first score of the restart, to extend their advantage to 4 points.
The next 20 minutes seen neither side troubling the score-board, and even though Sacred Heart continued to dominate proceedings, it took a fine last ditch block by Aidan McSorley, to prevent the Abbey from going 7 points clear.
With 5 minutes left on the clock it looked like Sacred Heart were going to rue their missed chances, however, the west Tyrone boys refused to be denied. They took total control of the final stages by emphatically scoring 3-1 without reply, courtesy of a point by Ciaran McArdle and goals by Pearce Goan, Matthew Hayes, and finally corner back Aidan McSorley.
As referee Stephen McNamee blew the final whistle, the Year 8 and 9 pupils of Sacred Heart had secured their College an historic first ever appearance in an Ulster Schools Final.
Final Score- Sacred Heart Omagh 3-11 v Abbey Vocational Donegal 4-1.
They now await the winners of Loreto Coleraine and De La Salle Belfast.
Sacred Heart: C Kelly, A McSorley, T Cox, T Mullan, S McKenna, C Conway, T Campbell, P Goan, F Glackin, O Campbell, S Drumm, C McArdle, F Patterson, T Cunningham, M Hayes. Subs: B McLaughlin, E Donnelly, J Gallagher, C Connolly, M Bradley, A.J. Moore, S McCaul, J Shi, R Simmonds, D Arkinson.